Friday Lunchtime Concerts                                      
All concerts begin at 12:15.  Tickets on the door: students free, pensioners 40kr, others 60kr. Contact Gisela Barnard for those interested in performing a lunch time concert at St. Andrews.
Sponsored by


http://www.sensus.se/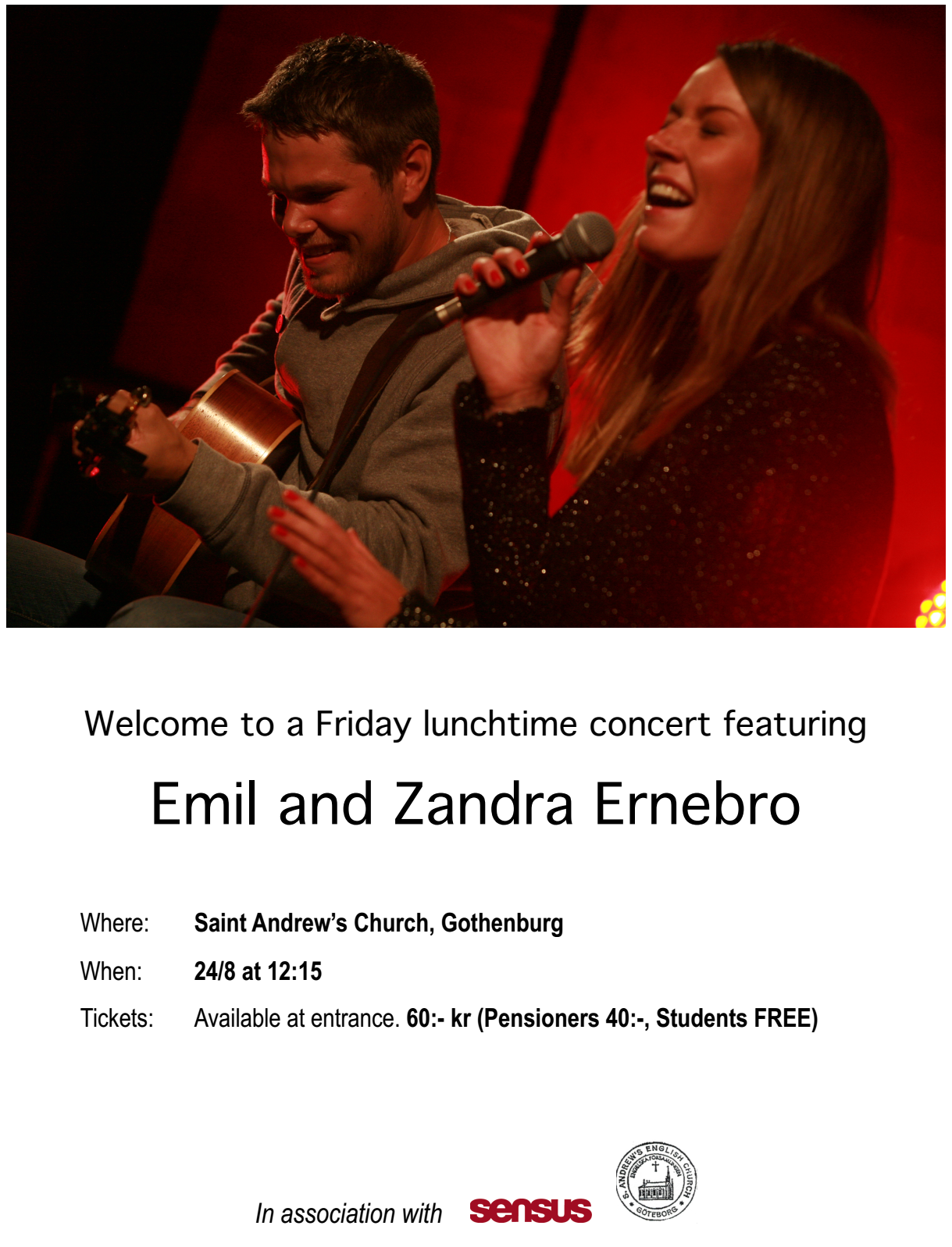 I rätta händer kan en gitarr låta som en miniorkester. Spelstilen som Emil Ernebro spelar kan kallas för "fingerstyle", och innebär
att man man spelar melodi, kompgitarr, och basgångar samtidigt. Det kan jämföras med en pianists sätt att spela på.
Tillsammans med sångerskan Zandra Ernebro, skapar de nu energifylld och härlig musikalisk upplevelse. Med både eget
material och tolkningar av gamla och nyare låtar, får ni nu åka med på en musikalisk resa i olika stilar, som Blues, Jazz,
Country och Pop. Välkomna!
Emil Ernebro
Efter hans studier i USA vann han utmärkelsen "Outstanding Player" på Musicians Institute i Los Angeles. Emil har vunnit 1:a
pris i kategorin "Unga förmågor" på Uppsala Internationella Gitarrfestival. Han har dessutom fått Hagströmstipendiet, vunnit 1:a pris i kategorin "Up and coming" ("Ung lovande artist"), för Guitar People's Prize som delades ut på Fasching i Stockholm, samt tilldelats kulturpriset i Bengtsfors kommun och stipendium från Rotaryklubben Göteborg-Säve. Emil har medverkat på polarprisgalan i Stockholm och uppträtt i flera olika TV-sammanhang, både som solo-artist men också tillsammans med andra artister.
Zandra Ernebro
Zandra har studerat sång både i Sverige och i USA. Först var det folkhögskola i Sverige och sedan vidare på Musicians Institute i
Los Angeles, USA. Som frontfigur i rockband, och som soloartist har Zandra lång erfarenhet och har spelat i väldigt många olika
sammanhang, och i olika genrer. Hon har sjungit tillsammans med San Fransisco-baserade världsgitarristen Jim Nichols, i
Nashville Tennessee.
Tillsammans har Zandra och Emil under de senaste åren gjort fler än 200 framträdanden tillsammans på konserter, bröllop,
konferenser, festivaler, mässor och andra evenemang. De har även medverkat i Helen Sjöholms och Jojje Wadenius sommarshow.