January 4 – Celebrating Epiphany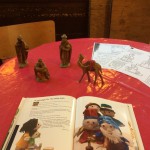 Because January 6 is not a public holiday, we have the option of celebrating the Epiphany on the second Sunday after Christmas. The usual business of bringing up the kings and camel to the crib, with the gospel reading from Matthew 2 after the first verse of "We three kings".
My sermon was a reworking of a Cambridge Mattins sermon "Jesus is born – in a world of many faiths."  About twice as long as my usual – just went onto a fourth page.  I had a request for a copy, which I sent by email.  The original was one of the sermons we sold for 30 p in Cambridge, so Great St Mary's probably holds the copyright!
January 6 – the Real Epiphany
January 6 being a public holiday in Sweden, both Domkyrkan and Haga had services at 11.  Haga's was a music service with songs from Benjamin Britten's Ceremony of Carols.  They began by processing the wise men to the crib – but they did not have a camel!
January 9 – Lunchtime Concert and Open Church
Music students Emma and Erik Nyman, who have played in church before, gave us a preview of their exam pieces: two sonatas for violin and piano, one by Janacek, the other by Beethoven.
We packed away the Crib, but left the Christmas trees and their lights for another week.  The Swedish tradition is to take down the trees on January 13.